Cross Country County Champions!
Cross Country County Champions!
28 June 2019 (by admin)
Phenomenal performances from our Year 3 and Year 5 boys at Keele University to win the Staffordshire Games Cross Country competitions.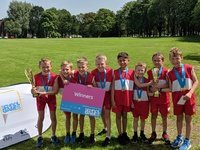 Our Year 3 boys and Year 5 boys completed the double - both won their respective races and were crowned county champions.
Even more incredible in both races Millfield had the first runner across the line with Archie Fletcher winning the Year 3 boys race and Dominic Harper winning the Year 5 boys race. There were over eighty boys in each race from all over the Staffordshire region.
Every team that competed in the games had already won a qualifying competition to represent their region of Staffordshire in the games. Millfield was representing Tamworth with the boys having won their qualifiying competitions back in October.
The Year 3 team of Archie, Amir, Lewis and Will did an amazing job on their first run at these games to win their competition.
Our Year 5 team (Dominic, Jack, Oliver and Louis) are very experienced having won this competition last year - but this year they did even better with all four boys finishing in the top ten.
All of these boys show great commitment and dedication to their running - practising most lunchtimes across the school year whatever the weather. We are extremely proud of them.
Huge thanks as well to the boys' parents for their support today and for helping transport them all the way to Keele.