Key Stage 2 - We Are Scientists Challenge Homework
Key Stage 2 - We Are Scientists Challenge Homework
11 October 2021 (by admin)
A science challenge set by Mrs Fisher for our Key Stage 2 pupils as part of our We Are Scientists week.
Are you ready for a We Are Scientists science challenge
I am challenging Key Stage 2 pupils to build a bridge out of paper that spans 40cm and holds a toy car (match box size).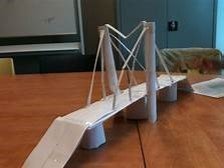 The rules:
1) The bridge must span a 40 cm gap and support itself without anything else holding it.
2) The bridge must NOT be taped to the table.
3) The car must sit on the middle of the bridge above the gap.
Complete the challenge at home and either bring a photo to me at school or send a photo via my email by Monday 18th October:
k.fisher@millfield.staffs.sch.uk
All entries will receive a certificate and one lucky winner, randomly selected, will
win a prize presented during our Star of the Week assembly.
Good luck!
Mrs Fisher - Science Subject Leader