Cressida Cowell - New Children's Laureate
Cressida Cowell - New Children's Laureate
10 July 2019 (by admin)
We want all pupils at Millfield to be strong, confident readers who have a love of reading - that why we support the new Children's Laureate Cressida Cowell's ten point plan for children.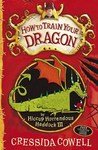 Cressida Cowell, who has been named as the new Children's Laureate, is ready to do battle to encourage children to love books. She is a bestselling author in 38 languages with her How to Train Your Dragon and The Wizards of Once book series. She also illustrates most of her stories.
Read her plan to encourage children to have a love of reading below:
Cressida Cowell's 10-point plan for children
1. Read for the joy of it
2. Access NEW books in schools, libraries and bookshops
3. Have advice from a trained librarian or bookseller
4. Own their OWN book
5. See themselves reflected in a book
6. Be read aloud to
7. Put a book down if they're not enjoying it
8. Be creative for at least 15 minutes a week
9. See an author event at least ONCE
10. Have a planet to read on
Don't forget you can help develop your child's love of reading by encouraging them to take part in the Summer Reading Challenge which launches this Saturday 13th July at all Staffordshire libraries.