Halfway through the holidays!
Halfway through the holidays!
12 August 2019 (by admin)
We are now halfway through the summer holidays - but don't worry there is still plenty of time to complete this year's Summer Reading Challenge.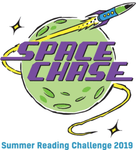 Have you started this year's Summer Reading Challenge?
Don't forget over the summer holidays to visit the library and take part in this year's summer reading challenge - Space Chase - an out-of-this-world adventure inspired by the 50th anniversary of the first moon landing.
The challenge is aimed at children aged from 4 to 11 years old and involves children visiting their local library and reading six or more books to receive a variety of stickers and other awards.
The Summer Reading Challenge is a fantastic way to get children reading for enjoyment and we would urge all Millfield pupils to take part. It is crucial that all pupils read as often as possible in order to improve the fluency and speed of their reading as well as their understanding of what they have read. The more pupils read the more vocabulary they will acquire and the easier it will become for them to understand what they have read.
We want all pupils at Millfield to be strong, confident readers who have a love of reading. To support this aim we would encourage all pupils to take part in the Summer Reading Challenge.
All children who complete the challenge are invited to bring their Summer Reading Challenge certificates into school to be presented at our Star of the Week assembly.