Our Authors of the Month for February
Our Authors of the Month for February
3 February 2020 (by admin)
Every month we have a featured author for our EYFS / KS1 pupils and for our KS2 pupils. Find out our authors for February 2020.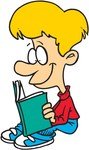 As part of our initiative to ensure pupils RED (Read Every Day) and develop a love of reading - every month we are focusing on the books of a particular author as our Author of the Month.
This month in KS2 our featured author is Phillip Pullman.
In EYFS / KS1 our featured author is Mick Inkpen.
Why not visit Tamworth Library and borrow books by these authors this month to help your child develop their love of reading and their knowledge of a particular author.